On behalf of Lucknow Batiya Foundation (Register), a mass wedding ceremony of 21 poor girls will be held on Wednesday, 13 November at Ramadhin Singh Utsav Lawn Babuganj. This information was given by Chairman Manish Gupta at the press conference on Monday at the venue. He told that for the first time, an attempt is being made to get married like Sita Swayamvar to make the marriage festival attractive. In this, the bride and groom will sit on the doli with a musical instrument and reach Jayamal site. If Dandiya celebrates the festival, then Barati and Janati will enjoy Holi of hymns and flowers. He informed that this event is being organized with the cooperation of Daliganj Hasanganj trade board and all traders. This time is the eighth year of the marriage ceremony.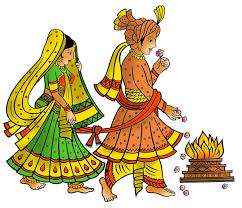 Patron Abhishek Khare told that the marriage ceremony will start from the collective tilak at 12 noon on 13 November. The procession will start at 6 pm from Bhuian Devi Temple Babuganj with a musical instrument. Jaimal will be worshiped at 8 o'clock at night, followed by the girl's feet and rounds and the morning farewell of 14th November. He told that the procession of 21 grooms will reach Ramadhin from Bhuian Devi temple via Faizabad road. All 21 grooms will be riding horses in the procession. Walking with the bridegroom, they would walk trembling to the tunes of the Barati band and Bhangra. Spokesperson Anurag Sahu said that upon reaching the wedding venue, all the groom and the baraati will be welcomed first.
After that the presentation of hymns on behalf of Vishal Bavla and Group, Swachh Bharat Udhosh, Sita Swayamvar, Radha Krishna Leela, Holi of flowers will be followed by Dandiya Utsav. Patron Vijay Sharma told that all the girls will be given necessary clothes, beds, utensils and other materials. Patron Bharat Bhushan Gupta and Treasurer Devi Prasad Aggarwal said that in the program, the Deputy Chief Minister of the state will give his blessings to Dr. Dinesh Sharma, Cabinet Minister Brijesh Pathak, Ashutosh Tandon, MLA Neeraj Bora, Pankaj Singh, Lucknow Mayor Samyukta Bhatia. On this occasion Suraj Verma, Pankaj Aggarwal, Atul Gupta, Rahul Gupta, Sumit Gupta, Manish Partha Tiwari, Pawan Talwar, Aman Talwar, Sandeep Singh Verma, Sanjay Singh Verma, Sunil Aggarwal, Rupali Agarwal, Ram Prakash Gupta, Manoj Singh Pujari Baba , Shivakant Tiwari was present.